Why We Invented ZERO by Leal
By:solutionfeilai Posted on
In 2018, I did not understand why people would choose handheld translators instead of just using their mobile phones...until I tried it a few times...
People did not choose handheld translators over mobile apps, but the convenience and the feeling of security of having something that always stands-by - just as no matter how advanced the calculator app is, yet people still spend $50 for a standalone calculator.
But, does that rationalize handheld translators inevitable? We can not answer for you, but we gave our answer by designing the ZERO translator.
The core value of a handheld translator is that it is always stand-by. Weaknesses? They are expensive, poor portability, and clumsy experience the same as mobile apps. Besides, the difference in accuracy is minimal across all translation devices.
Take a look here:
The most significant advantage of mobile apps? It is FREE. What about handheld translators? Well, it is the activation speed and ease of use.
On the contrary, WT2 Plus values the communication experience in conversing language - it is by far the closest form that resembles people's natural conversations in native tongues - comfortable, efficient, and immersive. Such an advantage is particularly evident in high-frequency conversation scenarios like meetings, chitchats, and learning foreign languages.
However, WT2 Plus is not as suitable in low-frequency scenarios like asking for directions, ordering food, or talking to the hotel reception, such conversations could end in a sentence or two. In other words, the super immersiveness of WT2 Plus requires extended time for getting it ready.
My most profound memory ought to rewind the clock to 2018 when I was on a business trip to Germany.
------ The story starts here ------
2018, Germany. I was at the central station and waited for a train to go to the airport. The train roared into the station. Just I was about to get on the train, I wanted to double confirm that it was the right train to the airport so I would not miss my flight...and I only had seconds before the door closed...
I stopped a gentleman and made a series of clunky moves with an app - take out the phone -> open the app -> wait for it to load -> find the translation button and press it -> and finally ask the question...the app worked at the time (thank goodness), the translated text came out with a voice...
Ok, the first part was done. But I still had to pay attention to when the gentleman respond because missing his words would get me a wrong translation. What is worse? The app picked up the surrounding noises...
At that particular moment, I finally realized why many would give up trying to talk to others who speak a different language. In real life engagements, there are surrounding noises, and people often talk at the same time - they are inevitable.
What can we do?
We need a product that can start quickly to communicate in a fool-proof manner. A device that can efficiently deal with various real-life scenarios and let people engage short conversations easily and freely.
Our answer is the ZERO Translator - a translation product you have never seen. It is smaller, faster, and easier to use, and it perfectly integrates with your mobile phone.
What one thing can do, no one wants to bring two - so we designed the ZERO to the size of two coins and weight 50g. When you need to use it, just plug the ZERO in, and the app interface would open automatically, and no buttons required. Simply put the ZERO in between the speakers at a proper distance, and the ZERO would know who is speaking and translate the spoken sentences automatically.
Even with noises on both sides or two people speak at the same time, the ZERO can still pick up the sentences and translate them separately. ZERO is the only device in the world that can simultaneously translate. No more waiting or repeating awkwardly.
Because of the compactness of ZERO, you can put the ZERO in the pocket without having to unplug it off the phone. You are always prepared for the next use. With the ZERO in the game, now the graph looks like this...
Not only can the ZERO be your companion for communication, but it can also do the audio transcription for meeting minutes. It separates and distinguishes the voices of each speaker by their directions, and transcribe respectively - what a time saver!
How did we do it?
We developed the world's smallest quad-microphone array. It is only 1 cm in diameter, and pick up voices clearer than any mobile phone.
ZERO is a powerful acoustic sound sensor and 4x faster in processing speed. When four people speak in different directions at the same time, it can still separate the voices simultaneously and accurately, while apps and handheld translators can handle only one voice at a time.
We make full use of the computing power of the mobile phone CPU and apply a noise cancellation algorithm based on neural network. ZERO automatically filters the surrounding noise, and translate only the spoken sentences in the conversation. No more start and stop buttons, but many more excellent, business-driven features like recording, text alignment, and exporting records.
ZERO combines creativity and innovativeness of what is possible - a perfect travel companion and recording device.
In the end, let's wind back the clock to when I was at the central station in Germany. If I have had the ZERO at the time, I could easily engage anyone in a matter of seconds, just like there was never a language difference.


- Leal Tian, Founder & CEO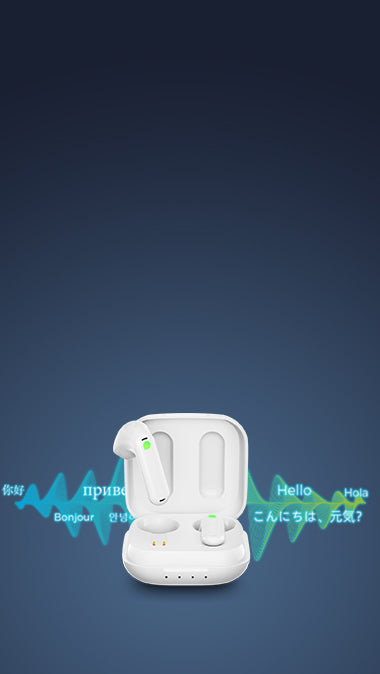 NO.1 Real-Time Two-Way Translation Earbuds

Bi-directional Simultaneous Translation

95% Accuracy in 40 Languages and 93 Accents

Smart Noise Reduction and 30-hour Battery

0.5-3 Seconds Fast Translation Speed

Offline Translation for 8 Languages
Learn More >>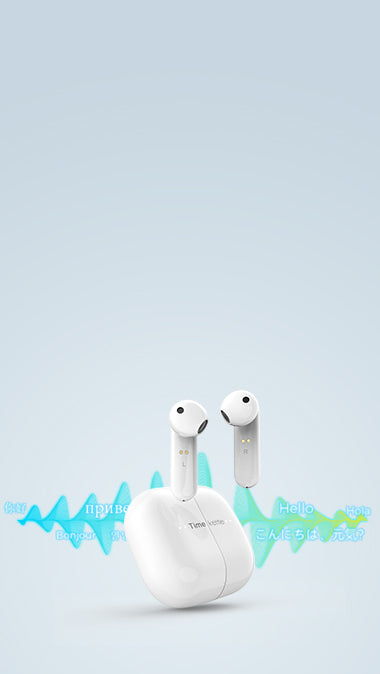 Leading Translation Earbuds with Entertainment Functions

95% Accuracy in 40 Languages and 93 Accents

Offline Translation for 8 Languages

Smart Noise Reduction and 12-hour Battery

Capable of Music Playing and Phone Calling
Learn More >>
Join Us
Subscribe to get special offers, free giveaways, and once-in-a-lifetime deals from Timekettle.