Timekettle WT2 Edge: Translation Earbuds Redefined
By:Cynthia Sun Posted on
In 2018, we launched the Timekettle WT2 Plus - the best selling real-time translation device on Amazon, which was supported by happy users from more than 90 countries and districts . 
We never stop exploring the cross-cultural communication of human beings. This year, we're back, with Timekettle WT2 Edge being launched on Indiegogo in early January, 2021. This will be a great hit as it is the world's 1st bi-directional simultaneous translation earbuds.
So, is the translation accurate enough when delivering the real-time translation for all the listeners?
That's what WT2 Edge has considered and made upgrades. Through a combination of dual microphones, beamforming technology, and an adaptive algorithm on directional voice recognition and smart noise reduction, WT2 Edge provides a correct voice pick-up then guarantees the accurate translation from the beginning of voice input and delivers the simultaneous translation bi-directionally by blocking irrelevant ambient noise. So every word counts. Nothing gets lost in translation.
Besides, integrated with 6 of the leading translation engines in the world, WT2 Edge continuously optimizes the translation core to improve the accuracy up to 95%[2], allowing you to enjoy a high-quality translation user experience. 
The obvious latency is a buzz-kill for the translators. For WT2 Edge, you don't need to worry about it. 
Powered by the 15 servers worldwide, the translation speed can be as rapid as 0.5 to 3 seconds[3]. That's all it takes to get your message across the language barrier. No need to wait for a long time in a conversation.
How many languages does it support? 
Here is the point. With the WT2 Edge supporting 40 languages and 93 dialects, you'll be able to communicate with nearly 85% of the world. And its offline languages pack allows you to have unlimited access to 7 widely-spoken languages: English, Chinese, Japanese, Korean, French, Spanish and Russian, which is offered as an add-on accessory with purchase. And more languages are being developed. Unlocking the world around you is just that easy on WT2 Edge.
How to use it? 
WT2 Edge supports 3 translation modes to satisfy most daily needs. The Simul Mode can help deliver the translation to the listener's earbud in real time when you're talking. Besides, its Touch Mode supports a face-to-face meeting with up to 6 persons[4], 2 languages. Any single user can take control of the microphone by simply tapping the earbud sensor. Their translated speech will be delivered to all the participants at the same time. And the Speaker Mode is so convenient for conversations on the plane, in travel and so on. When the speaker is talking while wearing the earbuds, the built-in microphone listens, translates, and transmits the local language through the smartphone.
The ultra-light and secure-fit design must be a plus.
WT2 Edge has been completely redesigned and restructured to stay in your ear. A redistributed center of gravity results in a more secure and comfortable fit. Compared with the last gen, it is 33% smaller and 46% lighter, with a maximum thickness of just 1 inch. And it won't easily fall down, which guarantees a comfortable experience during the 3-hour translation on a full charge.
This time, we're redefining the translator. WT2 Edge is ready for take-off for being the world's first real-time multi-person, multi-language earbuds to achieve barrier-free communication. Talking to the world is just that easy.
Notes:
[1] Bi-directional simultaneous translation: bi-directional translation only works in online translation; when it's in offline translation, it will turn into simultaneous translation and detects the voice which comes first.
[2] Accuracy up to 95%: this is the maximum accuracy for English-Chinese translation. It varies from 80% up to 95% for other languages. Translation accuracy is a subjective question, but from our tests and most users' feedback, it's enough for daily communication, social network, and non-professional business meetings. 
[3] Translation speed  0.5 to 3 seconds: internet speed, smartphone capacity and thythm of pauses while speaking are the three factors affecting the translation speed. Before using the product, we recommend adjusting these factors to the best conditions for the best translation speed performance.  
[4] Touch Mode for up to 6 persons: this function relies on the capacity of the smartphone, most flagship smartphones like iPhone Xs, Samsung Galaxy 10, Huawei Mate30 and Xiaomi 10 etc. can run our App with 3 to 6 earbuds.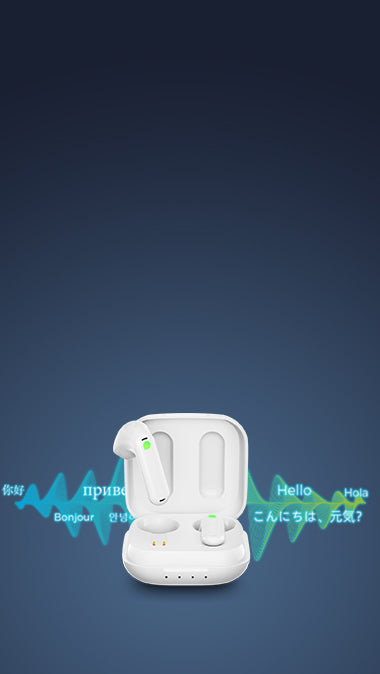 NO.1 Real-Time Two-Way Translation Earbuds

Bi-directional Simultaneous Translation

95% Accuracy in 40 Languages and 93 Accents

Smart Noise Reduction and 30-hour Battery

0.5-3 Seconds Fast Translation Speed

Offline Translation for 8 Languages
Learn More >>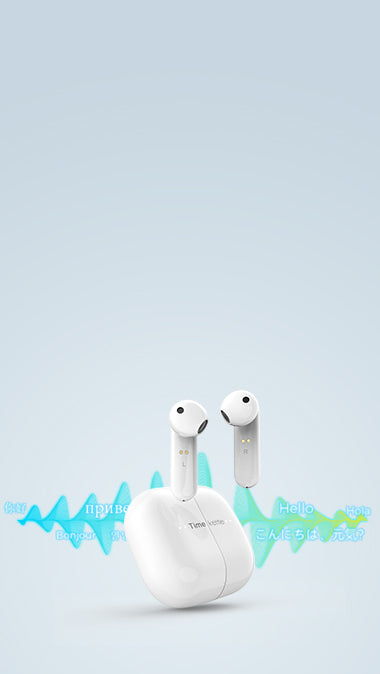 Leading Translation Earbuds with Entertainment Functions

95% Accuracy in 40 Languages and 93 Accents

Offline Translation for 8 Languages

Smart Noise Reduction and 12-hour Battery

Capable of Music Playing and Phone Calling
Learn More >>
Join Us
Subscribe to get special offers, free giveaways, and once-in-a-lifetime deals from Timekettle.