Top 9 Best Spanish To English Voice Translators For Travelers
By:solutionfeilai Posted on
When it comes to traveling, nothing is more important than knowing that you have the ability to communicate with others in your new surroundings. Now, depending on where you plan to travel, you might need a comprehensive live translator or voice translator to ensure that you've got all of your communication needs covered. But if you only plan on going to a place where one language is spoken, you might be able to find a nifty voice translator that gives you all the support you need!
For instance, if you're looking for the very best Spanish to English voice translators for travelers, we've got a nice list of products that you should surely look into for all Spanish-speaking travel needs! Take a look down below to bust into our top-9 best Spanish to English voice translators for travelers this year.
The Pocketalk Language Translator Device
The Pocketalk Language Translator Device is always a good choice because it gives you some flexibility in terms of your voice translation needs. Even at a small scale, this device is more than capable of serving as a reliable Spanish to English voice translator. The Pocketalk automatically detects your voice and can quickly translate it to any language that you select, which is perfect for translating from English to Spanish and vice versa.
Birgus Instant Voice Language Translator
This smart translator is also another good choice. Although it comes in at a steep price point, which is why it ranks at #9 on our list. But don't let that price point fool you, it's still well worth the money if you plan on going on more trips in the future! Equipped with WiFi technology and a nice touch screen, this device will serve as an ideal Spanish to English translator for all of your needs – whether it be dining, business, or exploring.
Birgus Language Translator Device
Building off of the Birgus Instant Voice Language Translator, the Birgus Language Translator Device is truly a work of art. This tremendously powerful two-way translator makes it easier than ever before to speak and translate in as little as a single second. With 98% accuracy and support for more than 100 languages, you can rest assured knowing that you can communicate in any Spanish speaking country, and a bunch of others, too.
Mortentr Translator Device
If you're trying to get closer to the top of the line quality that you can expect in our top-5, the Mortentr Translator Device gets you pretty darn close. Featuring smart technology, this AI-driven translator features two-way translation and simple functions that let you switch your A language and B language in an instant. Perfect for those Spanish-speaking trips!
ili – Instant Offline Language Translator
This one-way translator is a popular choice amongst those traveling to Spanish-speaking regions – and even better, it doesn't rely on Wi-Fi. In other words, you can be in the middle of the mountains without a personal in sight, and you can still access your translator. Use it anywhere, and anytime! With one-way translation capabilities, this portable translator is optimized for quick communications when out at a restaurant, in a store, or out in the city.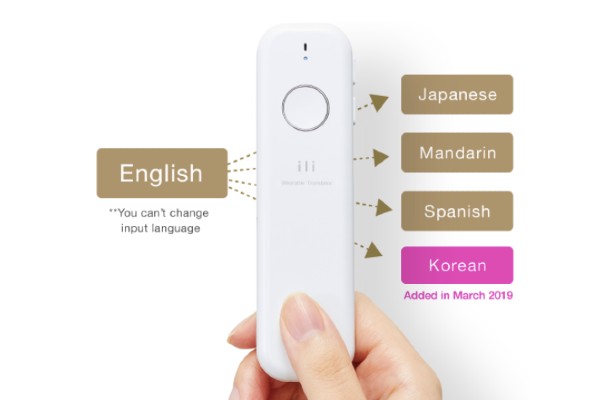 Franklin TWE-118 5-Language European Translator
Even with its retro vibe, the Franklin TWE-118 5-Language European Translator comes in at #4 on our list simply because of its ease of use. It's just one of the most capable budget translators out there for those small-scale Europe trips and for your week in Spain! It can even help you convert your currency!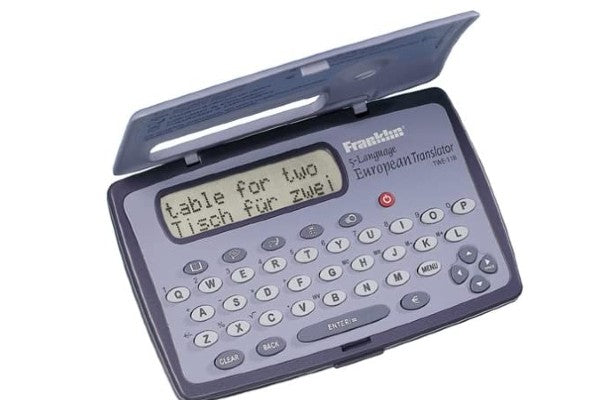 Nynicorny Translator Device
This small, compact, and totally modern pocket voice translator should surely be in your bag for your next trip! If you're looking for a seamless Spanish to English voice translator, the Nynicorny Translator Device is one of the top-3! Featuring Bluetooth support, 44 different languages, and advanced photo translation technology, you'll never be left without an option.
Langogo Genesis 2-In-1 AI Translator Device
Although it's certainly a close call, the Langogo Genesis 2-in-1 AI Translator Device is a tremendously powerful translator equipped with AI translation technology, voice recording, transcription recording, and built-in data. It'll become your go-to translation device long after your trip to Spain or Latin America, simply because it can do it all. And even with that, it's still not strong enough to be our top pick.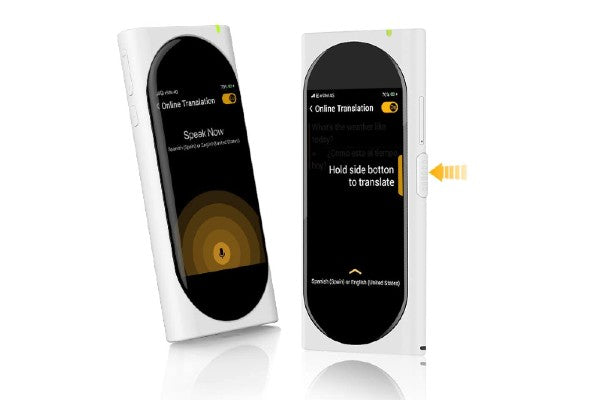 WT2 Plus AI Real-Time Translator Earbuds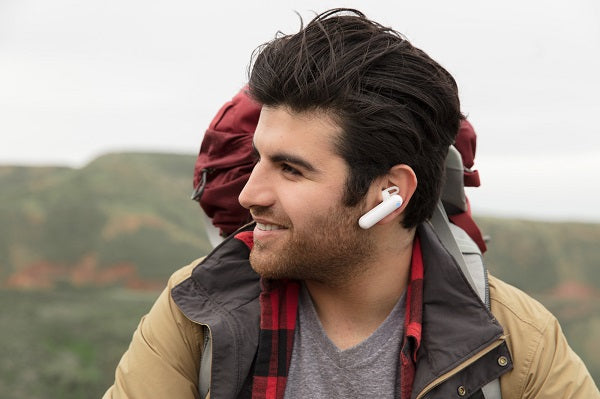 WTP Plus AI Real-Time Translator Earbuds offers simply the best Spanish to English voice translation system that you can find in today's market. These immensely powerful and cutting-edge earbuds feature an international award-winning design that inspires and encourages travelers to transcend language barriers. Equipped with AI technology, this powerful translator helps to simultaneously record and translate up to 40 different languages and 93 accents.
Built on cutting-edge technology, these AI-powered translator earbuds are easy to use, comfortable, and entirely hands-free, which really makes all the difference. Featuring three comprehensive modes for an entirely hands-free experience, it'd be impossible to miss a beat with these earbuds. Not to mention, each earbud comes equipped with a unique signal processing technology that features adaptive noise cancellation based entirely on a neural network. Simply pop your earbuds into your ear and watch as this powerful AI translator captures conversations with up to 93% accuracy!
Related Articles:
Top 10 Best Language Translator Earpieces and Buying Guide 2020
Top 10 Best Instant Translators for Travelers and Professionals in 2020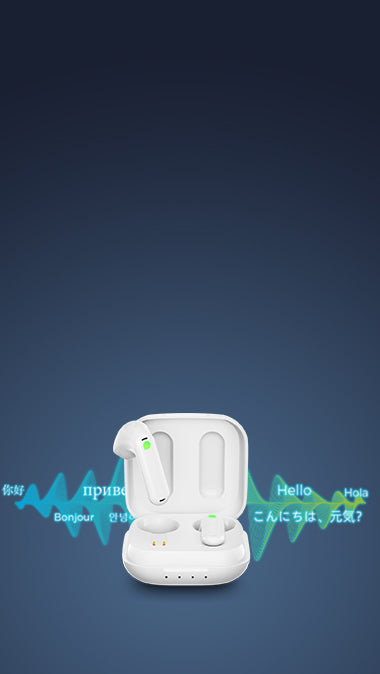 NO.1 Real-Time Two-Way Translation Earbuds

Bi-directional Simultaneous Translation

95% Accuracy in 40 Languages and 93 Accents

Smart Noise Reduction and 30-hour Battery

0.5-3 Seconds Fast Translation Speed

Offline Translation for 8 Languages
Learn More >>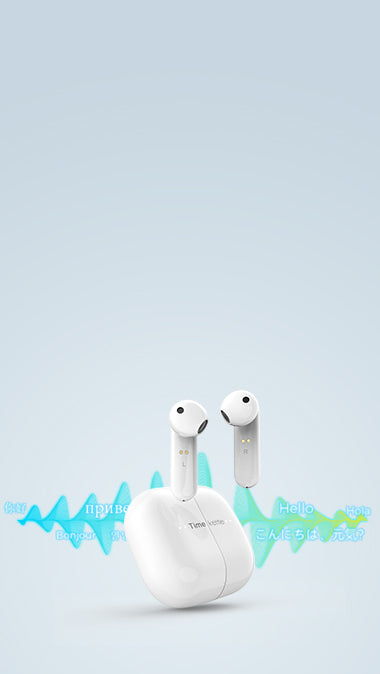 Leading Translation Earbuds with Entertainment Functions

95% Accuracy in 40 Languages and 93 Accents

Offline Translation for 8 Languages

Smart Noise Reduction and 12-hour Battery

Capable of Music Playing and Phone Calling
Learn More >>
Join Us
Subscribe to get special offers, free giveaways, and once-in-a-lifetime deals from Timekettle.