Top 10 Live Translators of 2020
By:solutionfeilai Posted on
If you're a frequently traveler, a business professional who constantly finds themselves on a plane going overseas, or a digital nomad who can't seem to stay in one place, then you should be familiar with the feeling of not being able to communicate in your native language. It never feels good not know what someone is saying to you – and it certainly doesn't feel good when you just can't quite communicate! But no worries, we've got a nice list here featuring the top-10 live translators of 2020 to ensure that no matter where you go, you always have a reliable pocket translator by your side.
Each of these translators come with advanced technologies like live voice detection, GPS technology, and adaptive noise control for easy functionality. Be sure to go through this list and find the right live translator that works for your unique needs and budget!
Now, if you're ready to learn all about the top-10 live translators of 2020, take a look down below and let's get into it!
The Vasco Traveler Premium 7" + Scanner
The Vasco Traveler Premium 7" translator is one of the most advanced translators available today. Featuring more than 40 languages ranging from English and Spanish, to French, German, and everywhere in between, this powerful translator has everything you need to get by when you're away from home. You can even take and receive calls! And don't forget about the sizeable screen, which makes it easier than ever before to share text with those around you.
The Pocketalk Language Translator Device
If you're looking for something a little smaller than the Vasco Traveler Premium, the Pocketalk Language Translator Device is always a good choice. This small-scale language translator is a simultaneous interpreter than can actually translate more than 74 languages while you're speaking. Equipped with advanced voice detection technology, the Pocketalk automatically detects your voice and translates it directly to the languages that you set, making for a quick, convenient, and seamless translation experience.
The Buoth Language Translator with Camera
Pocket translators are quick, easy to use, and convenient. The Buoth Language Translator is a solid pocket translator that comes with all of the simple functionality that you need. With multi-language support and internet connectivity, this translator features real-time two-way translation. And don't forget, it comes with a 5-million-pixel camera that can be used for photo translation purposes.
ECTACO Partner 900 PRO Spanish – English Translator
If you're traveling someplace where Spanish is the native tongue, don't settle for your measly old English – Spanish dictionary. Instead, take a look at this advanced Spanish – English translator equipped with a comprehensive Spanish translation system to ensure that you can easily communicate throughout your trip. With powerful voice detection technology, you can simply speak directly into the translator in English and watch it translate your words in just a few seconds. Don't forget about the high resolution camera and the powerful CPU, which helps to keep translations smooth and quick.
Pulomi Easy Trans Smart Language Translator
If you're looking for a powerful, simple, and portable language translator that doesn't break the bank, the Pulomi Easy Trans Smart Language Translator is one of the best around – that's why it ranks at #6 on our list! This simple translator is one of the easiest to use because it features one-button functionality. Simply press the voice input button and begin speaking into the microphone. With its high sensitivity microphone, it'll recognize exactly what was said and translate it to your language of choice – which includes 52 different languages, by the way. 
 

Franklin TWE-118 5-Language European Translator
Don't let the retro look fool you, the Franklin TWE-118 5-Language European Translator is still a capable budget translator for those small-scale Europe trips that you might take once in a blue moon. With the ability to total more than 210,000 translations across five different languages, you can feel comfortable communicating in places like France, Spain, Germany, Italy, and the US. It can even help you convert your currency! 
The Birgus Language Translator Device
Known as one of the very best Chinese translation apps on the market, this AI-powered translator is a powerful translator that comes at a good price point. Featuring universal language support with translations across 106 languages, in addition to a dedicated Chinese AI function, you can travel all throughout the Asian landscape and feel comfortable communicating every step of the way.
ili – Instant Offline Language Translator
This one-way translator is a popular choice amongst those traveling to Spanish-speaking regions – and even better, it doesn't rely on Wi-Fi. In other words, you can be in the middle of the mountains without a person in sight, and you can still access your translator. Use it anywhere, and anytime! With one-way translation capabilities, this portable translator is optimized for quick communications when out at a restaurant, in a store, or out in the city.
Langogo Genesis 2-In-1 AI Translator Device
This one is a close comparison to our number 1, but for obvious reasons, it still takes second place! The Langogo Genesis 2-in-1 AI Translator Device is a tremendously powerful translator equipped with AI translation technology, voice recording, transcription recording and built-in data. And don't forget about the gorgeous 3.1" retina display. 
WT2 Plus AI Real-Time Translator Earbuds
WTP Plus AI Real-Time Translator Earbuds feature an international award winning design that inspires and encourages travelers to transcend language barriers through an innovative design. Equipped with AI technology, this powerful translator helps to simultaneously record and translate up to 40 different languages and 93 accents.
Built on cutting-edge technology, these AI-powered translator earbuds make up the most advanced translator that we've ever seen. Featuring three comprehensive modes for an entirely hands-free experience, it'd be impossible to miss a beat with these earbuds. Not to mention, each earbud comes equipped with a unique signal processing technology that features adaptive noise cancellation based entirely on a neural network. Simply pop your earbuds into your ear and watch as this powerful AI translator captures conversations with up to 93% accuracy!
Related Articles:
Top 10 Real-Time Translators for Travelers and Businessmen 2020
Top 10 Language Translator Earbuds for Travelers and Businessmen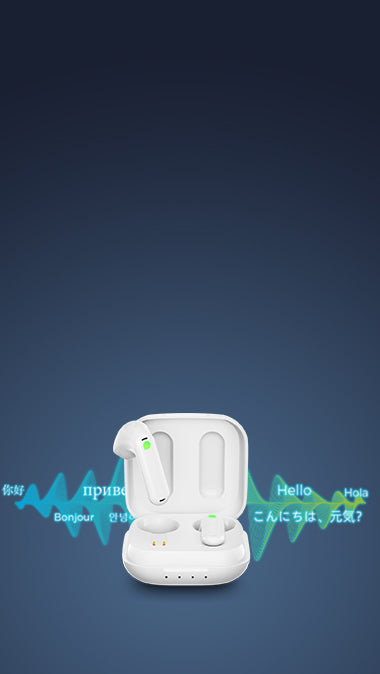 NO.1 Real-Time Two-Way Translation Earbuds

Bi-directional Simultaneous Translation

95% Accuracy in 40 Languages and 93 Accents

Smart Noise Reduction and 30-hour Battery

0.5-3 Seconds Fast Translation Speed

Offline Translation for 8 Languages
Learn More >>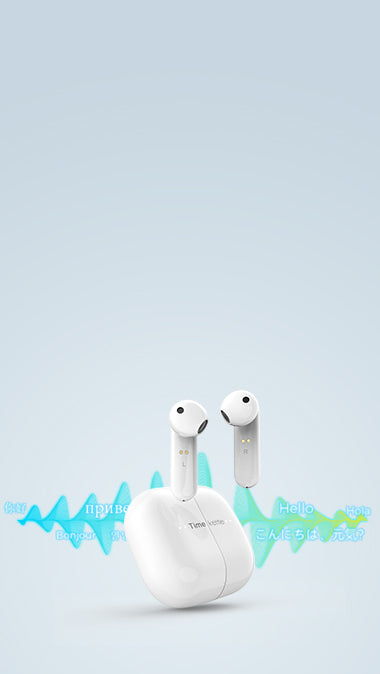 Leading Translation Earbuds with Entertainment Functions

95% Accuracy in 40 Languages and 93 Accents

Offline Translation for 8 Languages

Smart Noise Reduction and 12-hour Battery

Capable of Music Playing and Phone Calling
Learn More >>
Join Us
Subscribe to get special offers, free giveaways, and once-in-a-lifetime deals from Timekettle.