Timekettle WT2 Edge: 1st 2-Way Translation Earbuds
For more information, please click >
Timekettle WT2 Edge: 1st 2-Way Translation Earbuds | Indiegogo
Finally, natural real-time translations in 40 languages, in an earbud. Welcome to 2021.

Zoom calls. Global suppliers. We live in the era of fast and easy communication. And yet when it comes to translation, most of us are lagging well behind the times. We're still fumbling with outdated phone apps and overpriced interpreters that leave you wondering, is this really 2021? 
Introducing the WT2 Edge — the world's first truly bi-directional simultaneous translation earbuds, translating in real-time as you speak and delivering it to your listener's ear in as little as 0.5 seconds. With up to 95% accuracy in 40 languages and 93 accents, they're the ultimate tool for breaking the language barrier — whether you're closing deals on a video call or sparking a friendship at the hotel bar. No more awkward pauses or interpreters, just fast and accurate translations, so you can immerse yourself in the art of conversation. From pillow talk to boardroom banter. Welcome to 2021.  
As a token of appreciation to all support, we'd like to announce our referral programs! Just invite your family and friends to back us to earn FREE PRIZES (worth $14.99 each) or 10% CASH BACK through Kickbooster. Come and win yours! Do not miss out!

Program 1: Share Indiegogo referral link to get FREE PRIZES!
Copy your personal referral link on the top right of the campaign page and share it with your family and friends. 
Refer 1 order successfully, you'll get a FREE leather case (worth $14.99 each) !
Refer 2 or more orders successfully, you'll get an Offline Language Pack (worth $60 each) !
Program 2: Share Kickbooster referral link to get 10% CASH BACK!
Sign up on Kickbooster via the link below to get your personal referral link. For each order you refer successfully, you'll receive 10% of the pledge amount as a cash reward. Check out the detailed rules through the link below.
Kickbooster Link:  https://timekettle-wt2edge-earbuds.kickbooster....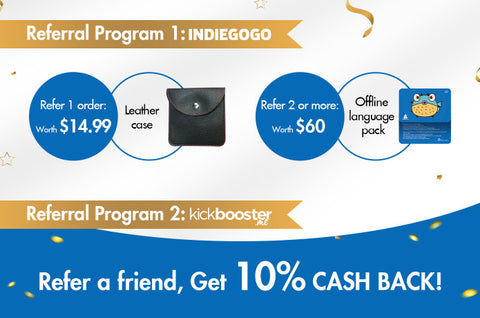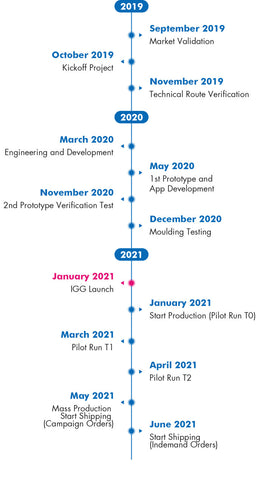 For more information, please click >
Timekettle WT2 Edge: 1st 2-Way Translation Earbuds | Indiegogo
---
Sorry, there are no products in this collection.