Timekettle WT2 Plus Translator Earbuds
Out of stock
Timekettle WT2 Plus Real-time Translator Earbuds
Redefine the way of bilingual communication
WT2 Plus translator earbuds, the real-time translating earphones for natural bilingual conversations, takes a new approach, offering an innovative solution using 1 app and 2 earphones. This system enables foreign communication that is natural, fluent and preserves both eye contact and body language.allowing you to immerse yourself in the conversation , express yourself more completely and build more meaningful connections with the people you meet——just separate the charging case and share one half with your speaking partner. The earphones will automatically wake up and pair with each other as well as the app.
What can Timekettle WT2 do
Online 1-3 seconds translation:
Within good networking (wifi and 4G) ,AI algorithm enables real-time translation in complex and challenging environments.It takes 1-3 seconds to complete voice recognition and translation, improving your communication experience .Timekettle acquires strong external technical support from Google, Microsoft and iFlytek. The translation accuracy rate can reach up to 95%.
40 languages and 93 accents:
Simultaneous 2-way translation in multiple foreign languages. WT2 Plus translator covers 85% of the world's population.Contains the main languages and accents used to help you face more friends from different countries and regions.
Offline transltion:
Download the offline voice package in advance, WT2 translator earbuds support offline translation 8 Languages in case of no network around. Please download the offline packages in advance. Notice that this translation-orientated translator doesn't support to listen to music or make a phone call.
5 hours continuous use:
5 hours of battery life on one charge and 15 hours of battery life with charging case.
It breaks through the limitations of traditional translators and has designed three usage modes
With compact design, you can use it and carry it wherever you want. It's suitable for meetings, small parties with friends and family.
Simul mode:
Hands-free and deep communication, one person can talk continuously in a quiet environment and the other person can hear translation continuously. This mode is very suitable for business meetings, international family exchanges and other scenarios that require in-depth communication for a long time. Please note that noisy environments will affect the experience of this mode

Touch mode
This mode is effective for noisy environments. Simply touch earbuds to speak, touch again to translate,This mode is suitable for use in relatively noisy environments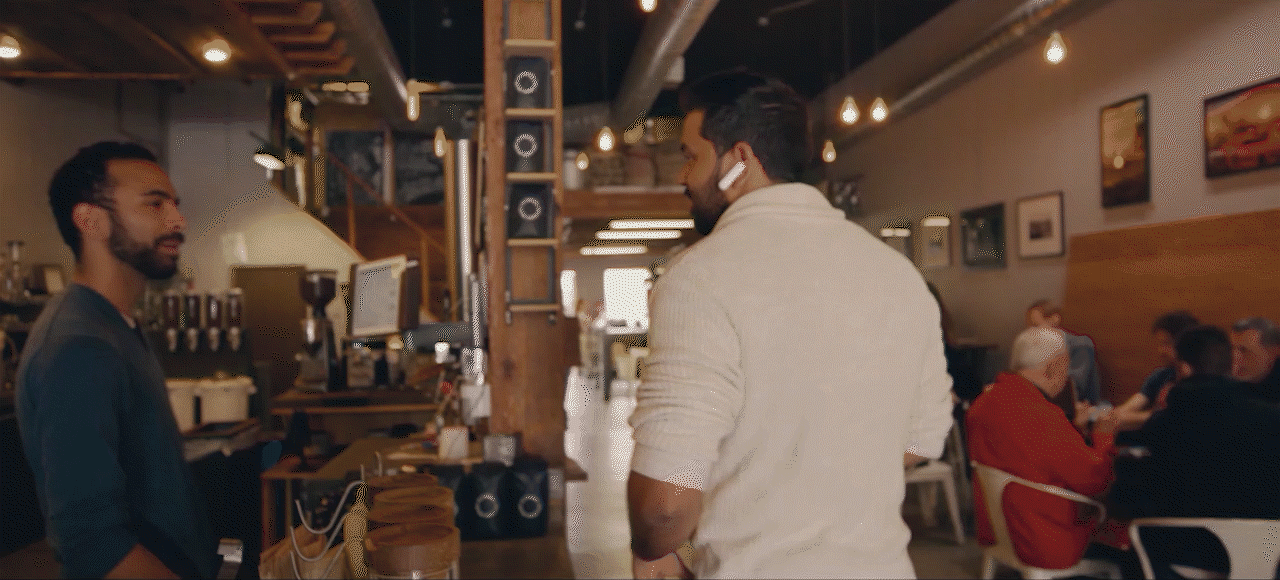 Speaker mode
1 earbud + 1 APP. In this mode, only one person needs to wear an earphone. This mode is useful for quick inquiries like asking for directions or confirming a price.To use Ask mode, wear one of the earphones and hold your phone in front of your conversation partner. He or she can then hear the translation aloud or view the translated text.